Zaha Hadid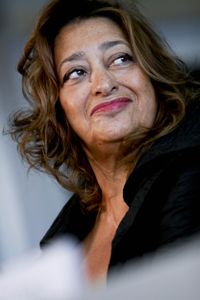 Nasce a Bagdad nel 1950. È fra gli interpreti più significativi del decostruttivismo in architettura.
Tiene conferenze in tutto il mondo e nel 1994 ha insegnato alla Graduate School of Design dell'Università di Harvard, occupando la cattedra che fu di Kenzo Tange.
Un'infanzia in Iraq, poi gli studi a Londra. "L'esperienza del trasferimento" - racconta - "fu molto liberatoria. Londra negli anni Settanta era molto più aperta di oggi. Adesso, so che gli Inglesi in realtà sono sciovinisti e misogini, ma allora coglievo soprattutto il loro amore per tutto ciò che è eccentrico, che mi ha permesso di fare ciò che desideravo ... Certo, se fossi stata un uomo avrei avuto vita più facile" ammette oggi, ma senza acrimonia, lei che viene dal mondo islamico ed è abituata a combattere il pregiudizio con le unghie della professione, si tratti di una cattedra ad Harvard o una mostra del suo lavoro al Guggenheim. Ora vive e lavora dividendosi tra Londra e Roma. Nella capitale inglese ha lo studio, popolato di giovani assistenti che la adorano.
Tra le sue opere ricordiamo il grande complesso alberghiero di Hong Kong; la stazione antincendio realizzata per la famosa fabbrica di sedie Vitra, a Weil am Rhein, in Germania, il padiglione video - musicale a Groningen, il bar ristorante Moonsoon a Sapporo e il Centro di Arte Contemporanea a Cincinnati. Quest'ultimo sarà ufficialmente inaugurato nel 2001 e rappresenterà il primo museo americano progettato da una donna.
Inoltre Hadid ha creato la Mind Zone (la Zona del pensiero) all'interno del New Millenium Experience della Millennium Dome di Greenwich, a Londra.
"Sin dall'inizio ho pensato all'architettura in una forma differente. Sapevo quello che volevo fare e quello che dovevo disegnare, ma non potevo farlo nel modo convenzionale, perché con i metodi tradizionali non riuscivo a rappresentarlo. Gli strumenti tradizionali della rappresentazione non mi erano d'aiuto. Così ho cominciato a ricercare un nuovo modo di progettare, per provare a vedere le cose da un diverso punto di vista. Poi, con il tempo, quei disegni, quelle prospettive e quelle pitture si sono trasformati nei miei veri strumenti di rappresentazione, qualcosa di più della semplice elaborazione di schizzi ... Penso che il massimo impegno per un architetto debba essere l'organizzazione della pianta, saperci entrare dentro, gestirla e muoversi in essa. La fluidità della pianta, la sua frammentazione, l'azzardo perfettamente calcolato, sono idee desunte da Malevich e dai suprematisti, che conducono a nuove forme di utilizzazione e creazione dello spazio. Ci sono molte altre indicazioni desunte dagli insegnamenti dei suprematisti, come l'idea di leggerezza, la tensione a staccarsi dal suolo che ha prodotto lo sviluppo dell'ingegneria e ha reso possibile le cortine di cristallo di Mies van der Rohe a Chicago e New York ... L'architettura deve infondere piacere, il piacere che si prova quando si sta in un luogo bello o in una abitazione gradevole, indipendentemente dalle dimensioni. Ciò che di solito la gente non capisce del concetto di lusso, è che esso non ha nulla a che vedere con il prezzo. La spiaggia di Copacabana, per esempio, ha una sabbia bellissima e per andarci non bisogna pagare niente! Questo dovrebbe fare l'architettura: offrire l'idea del lusso a grande scala".
Nel frattempo ha già vinto altri due concorsi, per un edificio a Kitzbuel e per un impianto sciistico a Innsbruck.
Zaha Hadid, founder of Zaha Hadid Architects, was awarded the Pritzker Architecture Prize (considered to be the Nobel Prize of architecture) in 2004 and is internationally known for her built, theoretical and academic work. Each of her dynamic and innovative projects builds on over thirty years of revolutionary exploration and research in the interrelated fields of urbanism, architecture and design.
Hadid was born in Baghdad, Iraq in 1950. She studied mathematics at the American University of Beirut before moving to London in 1972 to attend the Architectural Association School where she was awarded the Diploma Prize in 1977. She founded Zaha Hadid Architects in the 1980's and completed her first building, the Vitra Fire Station in Weil am Rhein, Germany in 1993.
Hadid's interest lies in the rigorous interface between architecture, landscape, and geology as her practice integrates natural topography and human-made systems, leading to experimentation with cutting-edge - technologies. Such a process often results in unexpected and dynamic architectural forms.
The MAXXI: National Museum of 21st Century Arts in Rome, Italy and the London Aquatics Centre for the 2012 Olympic Games are excellent demonstrations of Hadid's quest for complex, fluid space. Previous seminal buildings such as the Rosenthal Center for Contemporary Art in Cincinnati and the Guangzhou Opera House in China have also been hailed as architecture that transforms our vision of the future with new spatial concepts and bold, visionary forms.
Zaha Hadid Architects continues to be a global leader in pioneering research and design investigation. Collaborations with corporations that lead their industries have advanced the practice's diversity and knowledge, whilst the implementation of state-of-the-art technologies have aided the realization of fluid, dynamic and therefore complex architectural structures.
Currently Hadid is working on a multitude of projects worldwide including: High-Speed Train Stations in Naples and Durango; the Fiera di Milano masterplan and tower as well as major master-planning projects in Beijing, Bilbao, Istanbul and Singapore. In the Middle East, Hadid's portfolio includes cultural, corporate, academic and infrastructure projects in Jordan, Morocco, UAE and Saudi Arabia, in addition to national institutions such as the new Central Bank of Iraq Headquarters.
Zaha Hadid's work of the past 30 years was the subject of criticallyacclaimed exhibitions at New York's Solomon R. Guggenheim Museum in 2006, London's Design Museum in 2007, the Palazzo della Ragione, Padua, Italy in 2009, Philadelphia Museum of Art in 2011 Her recently completed projects include the CMA CGM Head Office Tower in Marseille (2011), London Aquatics Centre (2011), Riverside Museum in Glasgow (2011), Guangzhou Opera House (2010), Sheikh Zayed Bridge in Abu Dhabi (2010), MAXXI Museum in Rome (2009), Burnham Pavilion in Chicago (2009), Mobile Art for Chanel in Hong Kong, Tokyo, New York and Paris (2008) and the Nordpark Railway Stations in Innsbruck (2008).
Hadid's outstanding contribution to the architectural profession continues to be acknowledged by the most world's most respected institutions. She received the prestigious 'Praemium Imperiale' from the Japan Art Association in 2009 and the Stirling Prize, one of architecture's highest accolades, in both 2010 and 2011 from the Royal Institute of British Architects. Other recent awards include UNESCO naming Hadid as an 'Artist for Peace', the Republic of France honouring Hadid with the 'Commandeur de l'Ordre des Arts et des Lettres' in recognition of her services to architecture, and TIME magazine included her in their list of the '100 Most Influential People in the World'.