L'Urlo di Munch venduto a 91 milioni di Euro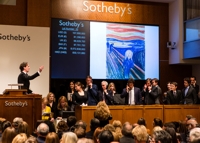 Un'asta storica quella che ha avuto luogo ieri a New York nel corso della quale un nuovo World Auction  Record è stato stabilito: l'Urlo di Munch è stato venduto per $ 119.922.500 (91.033.826 Euro) dopo una gara di più di 12 minuti che ha coinvolto 8 collezionisti.

Il totale dell'asta è pari a $ 330.568.550 (250.936.357 Euro), il secondo totale d'asta in assoluto per Sotheby's (il precedente record di $ 286.200.000 fu registrato a New York nel 1990).

Commenta Simon Shaw, responsabile del dipartimento di arte Impressionista & Moderna di Sotheby's a New York "Se c'è un'opera d'arte davvero forte e scioccante questa è l'Urlo di Munch che non solo rappresenta un'immagine fondamentale per la storia dell'arte, ma è anche una delle immagini più rappresentative della modernità"


AUCTION HISTORY MADE AT SOTHEBY'S NEW YORK
EDVARD MUNCH'S THE SCREAM SETS THE HIGHEST PRICE FOR ANY WORK OF ART AT AUCTION: $ 119,922,500 / £ 73,921,284 / € 91,033,826
$ 330,568,550 Marks the Highest-Ever Total for an Auction of Impressionist & Modern Art at Sotheby's Worldwide

2 May 2012 - Auction history was made at Sotheby's tonight when Edvard Munch's iconic masterpiece The Scream sold for $ 119,922,500 / £ 73,921,284 / € 91,033,826 in New York, marking a new world record for any work of art at auction*. A group of at least eight bidders jumped into the competition, but it was a prolonged battle between two highly determined phone bidders that carried the final selling price to its historic level, after more than 12 minutes.

The Impressionist & Modern Art Evening Sale totaled a remarkable $ 330,568,550 / £ 203,765,332 / € 250,936,357, Sotheby's highest-ever total for a sale of Impressionist & Modern Art worldwide**, and the second-highest total for a Sotheby's auction in any category***.
Simon Shaw, Senior Vice President and Head of Sotheby's Impressionist & Modern Art department in New York, said: "If ever there was a work of art of true shock and awe it is Edvard Munch's The Scream, which is not only one of the seminal images from art history, but also one of the visual keys to the modern consciousness. We are delighted to say that this magnificent picture achieved a new world record at Sotheby's for any work of art when it sold for $ 119.9 million (£ 73.6 million / € 91 million) after an enthusiastic bidding battle involving at least eight bidders which lasted for more than 12 minutes. Tonight's sale total of $ 330,568,550 million marked Sotheby's highest ever total for an Evening Sale of Impressionist and Modern Art, breaking Sotheby's previous record of $ 286.2 million set in 1990 here at Sotheby's in New York."
Tobias Meyer, Sotheby's Worldwide Head of Contemporary Art and this evening's auctioneer, commented:
"This evening's sale was a dream for an auctioneer, and to be able to sell The Scream for over $ 100 million dollars hammer was a moment that I cherish as an auctioneer, and also a very proud moment for Sotheby's. The Scream is worth every penny that the collector paid for it. It is one of the great icons of art in the world, and whoever bought it should be congratulated. Tonight was a historic night for Sotheby's, and I am very happy to have been part of it."
David Norman, Co-Chairman of Sotheby's Impressionist & Modern Art Department, added: "I have been at Sotheby's for three decades, and the sale of The Scream in tonight's auction is the most exciting moment I have experienced here. In 2004, Sotheby's sold the first $100 million picture, and to shatter the world auction record again for such an iconic and rare work of art this evening was nothing less than historic."
Mr. Norman continued: "We were also entrusted with so many other wonderful collections, including - and very happily - the Forstmann collection, which comfortably made a total within its estimated range, and we're thrilled to have achieved the $29.2 million price for the Picasso and the $14.9 million sum for the marvellous Joan Miró surrealist work Tête Humaine. Throughout the sale we established great prices in so many different categories: the Munch with Expressionism; Picasso with classic Modernism; Dalí with Surrealism; and Brancusi, a great work of sculpture."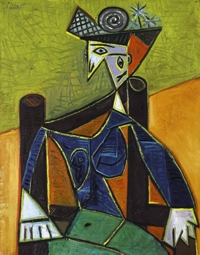 All but one of the 17 works from the estate of legendary financier Theodore J. Forstmann were sold in tonight's auction, with the group totaling $ 83,012,000 - well within its $ 64.4/96.2 million estimate****.
The selection of paintings, sculpture and works on paper were led by Pablo Picasso's Dora Maar titled Femme assise dans un fauteuil, which achieved $ 29,202,500 and marked the second-highest price in the sale (pictured right, est. $ 20/30 million). Additional highlights from Mr. Forstmann's collection included Joan Miro's Tête humaine from 1931 that sold for $ 14,866,500 (est. $ 10/15 million), and Paul Gauguin's Cabane sous les arbres that brought $ 8,482,500 above a high estimate of $ 7 million.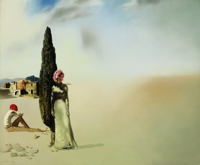 A superb offering of Surrealist works in the evening sale was led by Salvador Dalí's Printemps nécrophilique from 1936, which has not appeared on the market in nearly 15 years. The work achieved $ 16,322,500, well in excess of its $ 12 million high estimate (pictured left). A group of five gouaches by René Magritte from a private European collection totaled a strong $ 4,588,500, in excess of their cumulative high estimate of $ 3.8 million, while Max Ernst's 1940 depiction of his lover and fellow Surrealist Leonora Carrington titled Leonora in the Morning Light outperformed expectations in selling for $ 7,992,500 above a high estimate of $ 5 million.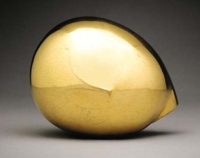 Strong prices for sculpture in the New York auction were led by a group of works from an important European collection, featuring rare examples by Constantin Brancusi and Auguste Rodin. Brancusi's Prométhée achieved $ 12,682,500, more than double its $ 6 million low estimate (pictured right), while a group of pieces by Rodin - including four lifetime casts - totaled $ 5,878,000, above their overall high estimate of $ 5.3 million.


STATEMENT FROM PETTER OLSEN
"I was walking along the road with two Friends / the Sun was setting - The Sky turned a bloody red / And I felt a whiff of Melancholy - I stood / Still, deathly tired - over the blue-black / Fjord and City hung Blood and Tongues of Fire / My Friends walked on - I remained behind / - shivering with Anxiety - I felt the great Scream in Nature - EM" The artist's hand-painted inscription on the frame of the present work.
I hope that the publicity given by this sale will increase public interest in Munch's work and awareness of the important message that I feel it conveys.
"The Scream " for me shows the horrifying moment when man realizes his impact on nature and the irreversible changes that he has initiated, making the planet increasingly uninhabitable.
The image of "The Scream" could make more of us fathom the magnitude of the consequences of our continuing emissions of greenhouse gases. This will inevitably lead to the triggering of uncontrollable feedback mechanisms that lie latent in the physics of nature.
They will kick in, slowly at first, then accelerate, causing the earth to become overheated. The biosphere will shrink and there will be less oxygen, water and food. More death, less life. And very few lifeboats left as we go down.
Munch's most important work "The Frieze of Life", never finalized, but existing in many versions, has as its theme Love, Anxiety and Death. "The Scream" is about Anxiety approaching and anticipating Death.
Munch's hand painted poem on the frame ends with the words "The Great Scream in Nature." It is as if Munch has had a premonition of what man was going to inflict on nature.
Meanwhile, Munch will continue to be a major force in my life. With my own Munch project I would like to focus on Life and Love.
Next year I plan to participate in the 150th anniversary celebrations in Norway of the birth of Edvard Munch. I am currently building a gallery which will house my private collection of local art by Munch and other artists. I am also restoring his house and studios close by where he finished the project for the Oslo University Auditorium Decorations one hundred years ago. I am collaborating with the Oslo Munch Museum on an exhibition with this theme. The opening will be on 2 June 2013.
Later we will also open a small hotel on the premises on my farm Rammegaard just a short distance south of Oslo by the fjord. I am looking forward to welcoming admirers of art from around the world from next year on.


* The previous record for a work of art at auction was held by Pablo Picasso's Nude, Green Leaves, and Bust, which sold at Christie's New York in May 2010 for $ 106,482,500

** Sotheby's previous record for a sale of Impressionist & Modern Art was $ 286,165,000, achieved in New York on 17 May 1990

*** Sotheby's highest-ever auction total was achieved by the Contemporary Art Evening Auction in New York on 14 May 2008, which totaled $ 362,037,000

**** Estimates do not include buyer's premium