Archivio Conrad Marca-Relli
(Boston, 1913 - Parma, 2000)
L'Archivio Marca-Relli, attivo dal 1997 a Parma (nato per volontà dell'artista in collaborazione con la Galleria d'arte Niccoli), ha lo scopo di conservare, promuovere e diffondere la conoscenza dell'opera del maestro Conrad Marca-Relli.
L'Archivio collabora alla realizzazione di mostre, cataloghi ed altre iniziative culturali ed è a disposizione per l'archiviazione e autentiche delle opere.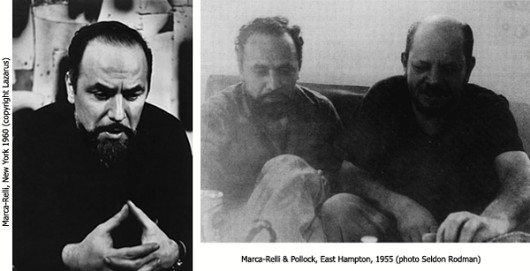 The MARCA-RELLI ARCHIVE, active in Parma (Italy) since 1997 (initiated by the artist himself in collaboration with Galleria d'arte Niccoli), is dedicated to the conservation, promotion and the diffusion of knowledge of Conrad Marca- Relli's works.
The Archive collaborates for the organization of exhibitions, catalogs and other cultural initiatives and is available for archiving, authenticity investigations and any other relevant inquires regarding the artist.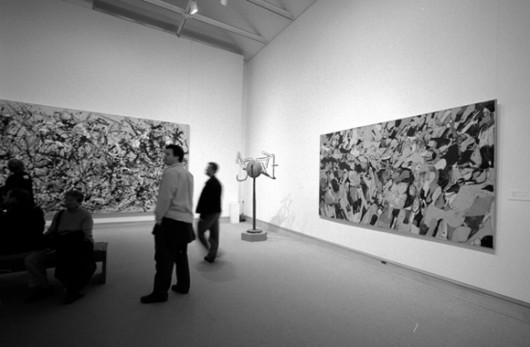 Metropolitan Museum, New York

MOSTRE PERSONALI - SOLO EXHIBITIONS
1947 New York, Niveau Gallery 1948 Roma, Galleria il Cortile 1949 Roma, Galleria il Cortile; New York, Niveau Gallery 1951 New York, New Gallery 1953 New York, Stable Gallery 1955 New York, Stable Gallery 1956 Los Angeles (Hollywood), Frank Perls Gallery; New York, Stable Gallery 1957 Roma, Galleria La Tartaruga; Milano, Galleria del Naviglio 1958 New York, Stable Gallery 1959 New York, Kootz Gallery 1960 New York, Kootz Gallery;Sharon (Connecticut), Playhouse Gallery 1961 Düsseldorf, Galerie Schmela; San Francisco, Bolles Gallery;Boston, Joan Peterson Gallery; Lima, Instituto de Arte Contemporaneo;New York, Kootz Gallery 1962 Paris, Galerie de France; New York, Kootz Gallery 1963 Zuri! go, Galerie Charles Lienhard;Tokio, Tokio Gallery; New York, Kootz Gallery 1964 New York, Kootz Gallery 1965 Buenos Aires, Galeria Bonino 1967 Coral Gables (Florida), James David Gallery;Philadelphia, Makler Gallery; New York, Whitney Museum of American Art; Waltham (Massachussets), Rose Art Museum;Brandeis University 1968 Tuscaloosa, University of Alabama; Boston, Alpha Gallery; Buffalo, Albright-Knox Members Gallery 1969 Seattle, Seattle Art Museum; Portland (Oregon), Reed College 1970 New York, Marlborough Galley; College Park, University of Maryland Art Gallery; West Palm Beach (Florida), Norton Gallery 1971 Düsseldorf, Galerie Schmela; Fort Lauderdale (Florida), Ford Lauderdale Museum of Art; Coral Gables (Florida), Lowe Art Museum University of Miami 1972 Ibiza, Galeria Carl Van der Voort 1973 Madrid, Gal! eria Inguanzo; Auvernier (Neuchâtel), Galerie Numaga; Be! rlino, G alerie Bahlsen 1974 Zurigo, Galerie Marlborough; Philadelphia, Makler Gallery 1975 Toronto, Marlborough-Goddard Gallery;Montreal, Marlborough-Goddard Gallery; New York, Marlborough Gallery; Ibiza, Galeria Carl Van der Voort 1977 Ibiza, Galeria Lanzenberg; New York, Cordier & Ekstrom Gallery 1978 Barcellona, Galeria Joan Prats; Fort Lauderdale (Florida), Carone Gallery 1979 Fort Lauderdale (Florida), Fort Lauderdale Museum of Arts; New York, Marlborough Gallery; Fort Lauderdale (Florida), Carone Gallery 1980 Sarasota (Florida), Ringling Museum 1981 Chicago, Hokin Gallery 1982 Washington D.C., Phoenix Gallery; Birmingham (Michigan), G.M.B. Gallery 1983 New York, Alex Rosenberg Gallery 1985 New York, Marisa del Re Gallery 1986 Chicago, R.H. Love Gallery; New York, Marisa del Re Gallery 1987 New York, Marisa del Re Gallery 1989 New York, Marisa del Re Gallery 1990 Parma, Galleria d'Arte Niccoli; Scottsdale (Arizona), Riva Yares Gallery 1991 New York, Marisa del Re Gallery 1996 New York, East Hampton, Vered Gallery 1998 Venezia, Peggy Guggenheim Collection 2000 Darmstadt, Institut Mathildenhöhe 2002 Parma, Galleria d'Arte Niccoli (sintonie e dissonanze con Afro e Burri) 2004 New York, Joan T. Washburn Gallery;Prato, Galleria Open Art (tensioni composte) 2006 Brescia, Lagorio Arte Contemporanea

Archivio Marca-Relli
Via Bruno Longhi, 6 - 43100 Parma