Burnham Pavilion - Chicago, USA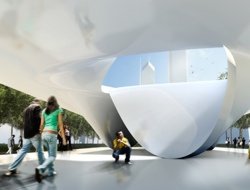 In celebration of the 2009 Centennial of the Plan of Chicago UNStudio has been invited to design a temporary pavilion for Millennium Park.

Placed on a unique location in the middle of Millennium Park and framed by Lake Michigan on one side and Michigan Avenue on the other, the UNStudio pavilion relates to diverse city-contexts, programs and scales.
Programmatically the pavilion invites people to gather, walk around and through and to explore and observe. The UNStudio pavilion is a sculptural, highly accessible urban activator.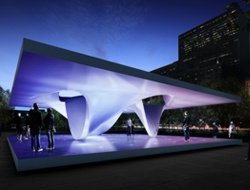 The pavilion will open in June 2009 and close at the end of October 2009, when it will be dismantled and recycled into public art.
Ben van Berkel will also be giving a lecture about the pavilion on 14th April at the UIC in Chicago.