Rem Koolhaas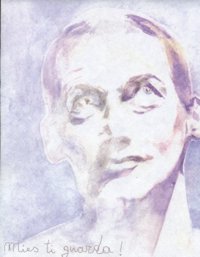 Arch. Paola De Rosa - www.paoladerosa.com
Ritratto di Rem Koolhaas, 2000
Acquerello su carta
Dim: 17x20,5 cm
Rem Koolhaas nasce a Rotterdam nel 1944. All'età di otto anni si trasferisce in Indonesia, in quanto il padre, scrittore, critico di teatro e direttore di una scuola cinematografica, è invitato dal governo nazionale a divenire il loro direttore culturale; così Rem trascorre quattro anni della propria infanzia in un ambiente esotico.
Comincia la sua carriera come giornalista, collaborando con l'Haagse Post e, più tardi, diviene sceneggiatore in Olanda e a Hollywood.
Frequenta la Architecture Association School a Londra.
Nel 1972 riceve una Harkness Fellowship per una ricerca negli Stati Uniti. Studia con O. M. Ungers alla Cornell University per un anno, divenendo, poi, visiting professor all'Institute for Architecture and Urban Studies a New York. Mentre è a New York, scrive "New York Delirius" da egli stesso descritto come un "manifesto retroattivo per Manhattan". Pubblicato nel 1978, è stato salutato dai critici come un testo classico sull'architettura e sulla moderna società. Egli stesso ha descritto il libro come "un'esplorazione della cultura della congestione". Il libro è stato ri-edito nel 1994 in concomitanza con la mostra dei suoi lavori intitolata "Rem Koolhaas and the Place of Public Architecture" al Museum of Modern Art a New York.
I suoi scritti gli assegnano il riconoscimento di un visionario, consolidato dalla realizzazione di opere di architettura, pianificazione urbana e di ricerca.
Definito un modernista da alcuni ed un decostruttivista da altri, Koolhaas rifiuta entrambe le classificazioni. In realtà, analizzando i suoi tanti progetti, non è facile riconoscerne uno stile; egli stesso dice che "lavorando in tanti ambienti diversi e con le più diverse condizioni, il lavoro finito deve essere anch'esso diverso".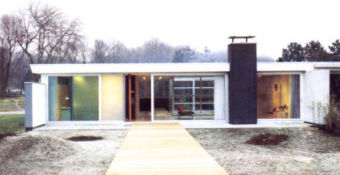 Casa a Patio - Rotterdam, 1988
Sempre nel 1994 pubblica, in collaborazione col grafico canadese Bruce Mau, un secondo libro, "S,M,L,XL". Descritto come un romanzo sull'architettura, il libro combina fotografie, piani, narrativa, vignette, composizioni e pensieri casuali con il lavoro prodotto da Koolhaas per l'Office for Metropolitan Architecture (OMA). Il titolo del libro è anche la presentazione del suo lavoro: progetti e composizioni sono sistemate secondo la scala.
Dal 1995, Koolhaas è professore alla Harvard University. Attualmente, conduce un gruppo di ricerca con gli studenti che si occupa dello studio dei diversi problemi che incidono sulla condizione urbana. I progetti includono uno studio di cinque città nel Delta del Pearl River in Cina; uno studio, The Roman System, concentrato sulla città romana ed antica; Shopping, un'analisi del ruolo del consumo della vendita al dettaglio nella città contemporanea; uno studio della città africana, specificamente concentrandosi su Lagos, in Nigeria.
L'Ufficio per l'Architettura Metropolitana (OMA) è il nome dello studio che Koolhaas fonda a Londra nel 1975 con Madelon Vriesendorp ed Elia e Zoe Zenghelis. Lo scopo determinato è di indirizzare la società contemporanea verso la formazione di un'architettura contemporanea. Tre anni più tardi, l'OMA vince il concorso per l'ampliamento del Parlamento. L'apprezzamento per tale progetto dà luogo, nel 1978, all'apertura di un ufficio a Rotterdam e ad un incarico di progettazione per un quartiere residenziale ad Amsterdam, completato nel 1986 e noto come IJ-Plein.
Un altro tra i primi incarichi ricevuti è il Netherlands Dance Theatre in The Hague, completato nel 1987 e definito da Phyllis Lambert, direttore fondatore del Canadian Centre for Architecture a Montreal, come "uno dei primi nove edifici del XX secolo".
Koolhaas, tra l'altro, progetta molte residenze, incluse la Dutch House nell'Olanda e la Villa Dall'Ava a Parigi, con piscina sul tetto.
Koolhaas è stato uno dei cinque architetti invitato a disegnare per Nexus Housing a Fukuoka, in Giappone. Il progetto consiste di 24 case individuali, ciascuna alta tre piani, inglobate insieme ogni due blocchi.
Del 1992 è il Kunsthal, un edificio per ospitare le mostre itineranti a Rotterdam. Il progetto comprende tre grandi sale espositive, che possono essere usate anche congiuntamente, un ristorante, con accesso indipendente, ed un auditorium. Il tutto è organizzato attorno ad una rampa elicoidale pedonale che attraversa l'edificio.
Del 1997 è l'Educatorium, un edificio a servizio di tutte le facoltà e gli istituti di ricerca dell'Università di Utrecht. L'Educatorium contiene due auditoria per 500 e 400 posti, tre sale per gli esami, una mensa per 1000 posti, un parcheggio per 1100 biciclette.
A Koolhaas è affidato l'incarico del piano urbanistico dell'Euralille, completato nel 1996. È un centro di attività commerciali, culturali ed espositive che sorge a Lille accanto alla linea del Tgv, divenuto l'interscambio tra Londra e Parigi grazie all'Eurotunnel. All'interno dell'Euralille realizza il Lille Grand Palais, una struttura per congressi ed esposizioni, che contiene anche una concert hall. L'Euralille comprende, tra gli altri, edifici realizzati da Nouvel, Shinohara, e Christian de Portzamparc.
Nel 1998 realizza la Maison à Bordeaux in Francia.
Recentemente, Koolhaas ha realizzato il progetto della sede Universal Studios, a Los Angeles, ed è stato selezionato per realizzare un nuovo Campus Center all'Illinois Institute of Technology a Chicago. L'edificio sarà, dopo molti anni, la prima struttura nuova dell'università dove venti dei suoi cinquanta edifici furono disegnati da Mies van der Rohe.
Nel 1999 è stato selezionato per realizzare la Seattle Library Board of Trustees.
A Porto, in Portogallo, progetta una nuova concert hall. A Berlino, Koolhaas ha disegnato la nuova Ambasciata per l'Olanda.
Nel 2000 è insignito del Pritzker Architecture Prize.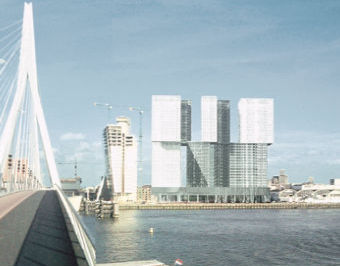 MAB Tower - Rotterdam, 2001
Oggi, lo studio di Koolhaas a Rotterdam è composto da 85 architetti e designers.
Bill Lacy, il direttore esecutivo del Pritzker Prize, nel 1991 ha scritto nel suo libro 100 Contemporary Architects: "Come un architetto-filosofo-artista, l'olandese Rem Koolhaas ha ampliato e continua ad ampliare la nostra concezione di città e civiltà".
Premi ed onorificenze
1974 Progressive Architecture Award con L. Spear
1986 Rotterdam Maaskant Prize, The Netherlands
1987 Japan Design Foundation Award
1991 Prix d'Architecture per Villa dall'Ava, Paris, France
1992 The Best Building in Japan for Housing, Fukuoka, Japan from the Architectural Institute of Japan
1992 Antonio Gaudi Prize for Lille Urbanism Project
1993 The Getty Center, Visiting Scholar Cultural Foundation Madrid Award
1997 American Institute of Architects (AIA) Book Award for S,M,L,XL
1999 L'equerre d'argent for the Maison á Bordeaux Prize for Intensive Space Use by the Dutch Government for Almere masterplan Rietvaldprize for Educatorium Utrecht
2000 Pritzker Architecture Prize
Teaching Positions
1975 Institute for Architecture and Urban Studies, New York
School of Architecture, University of California a Los Angeles, California
1976 Architectural Association, London, UK
1988-89 Technical University, Delft, Netherlands
1991-92 Rice University, Houston, Texas
1990- Harvard University, Cambridge, Massachusetts
Mostre
1978 The Sparkling Metropolis – Guggenheim Museum, New York
1988 Recent Works - Max Protech Gallery, New York
OMA 1972-1988, Architektur Museum, Basel, Switzerland
Deconstructivism
(group exhibition) – Museum of Modern Art, New York
1989 OMA: The First Decade - Boymans Museum, Rotterdam, Netherlands
Fin de Siecle, OMA at IFA - IFA, Paris, France
1990 OMA Recent Projects - Collegio d'Arquitectes, Barcelona, Spain
Energieen
(group exhibition with Cindy Sherman, Anselm Kiefer, Sigmar Polke, Jenny Holzer) - Stedelijk Museum, Amsterdam, Netherlands
Rem Koolhaas, OMA in Lille - Musee de Beaux Arts, Lille, France
1994-95 Rem Koolhaas and the Place of Public Architecture - Museum of Modern Art, New York; Wexner Museum, Columbus, Ohio; and Tokyo, Japan
1995 Euralille Poser-Exposer - travelling exhibition
1997 New Urbanism: Pearl River Delta – Documenta X, Kassel, Germany
1998 Living (Vivre) - Arc en Reve, Bordeaux, France
1999 Cities on the Move (group exhibition) –Hayward Gallery, London, UK
Living (extended) at the ICA, London, UK
Libri
1978 Delirious New York: a Retroactive Manifesto for Manhattan - New York: Oxford University Press. Reprinted in 1994 by Publishers, Rotterdam, and translated into German in 1999, Arch+ Verlag.
1995 OMA, S,M, L, XL - in collaboration with the Canadian graphic designer, Bruce Mau.
Selected Completed Projects
1987 Netherlands Dance Theatre - The Hague, Netherlands
1989 Patio Villa - Rotterdam, Netherlands
1991 Byzantium - Amsterdam, Netherlands
Nexus Housing - Fukuoka, Japan
Villa dall'Ava - Paris, France
1992 Kunsthal - Rotterdam, Netherlands
1993 Dutch House - Netherlands
1994 Euralille Masterplan - Lille, France
Lille Grand Palais - Lille, France
1997 Educatorium - Utrecht, Netherlands
1998 Maison á Bordeaux - Bordeaux, France
1999 2nd Stage Theatre - New York, NY
Works in Progress
1992- Souterrain, Parking Garage, Tram Stations and Tram Tunnel, Netherlands
1994- Almere, city center, Netherlands
Parking Garage, Almere, Netherlands
1996- MCA-Universal Expansion, Los Angeles, CA
Chasse-terrain, urban master plan, Breda, Netherlands
Carre Building, Breda, Netherlands
1997- Schiphol Logistic Parc, Netherlands
Netherlands Embassy, Berlin, Germany
IIT University Building, Chicago, IL
1998- Paard Poppodium, The Hague, Netherlands
Haus um die Schenkung, Berlin, Germany
1999- Amsterdam Airport in the Sea, Netherlands
Blok 6, Cinema, Almere, Netherlands
MAB Tower, Rotterdam, Netherlands
Public Library, Seattle, WA
Casa da Musica, Porto, Portugal
Selected Architecture/Urbanism/Landscape Projects
1982 Parc de la Villette (competition) Paris, France
1983 World Exposition 1989 (study) Paris, France
1987 Plan for the "new town" (competition) Melun Senart, France
1991 Le Grand Axe (competition) Paris, France
Urban Design Forum (study) Yokohama, Japan
1993 Air Alexander (study) New Urban Frontiers
1995 A4 Highway corridor (study) Netherlands
Airport City (study) Seoul, Korea
1996 Airport City (study) Schipol, Amsterdam, Netherlands
1996 Hyperbuilding (study) Bankok, Thailand
Masterplan for Universal City (study) Los Angeles, CA
1997 Hanoi New Town (study) Vietnam
1998 Schiphol Post Airport City (study) Amsterdam, Netherlands
1999 Dutchtown, a master plan according to OMA, Netherlands Architectural Institute (NAI),
Premi a Concorsi
1978 Extension of Parliament (Secondo premio ex aequo) The Hague, Netherlands
1986 City Hall (menzione) The Hague, Netherlands
1988 Netherlands Architectural Institute Rotterdam, Netherlands 1989 Ferry Terminal (Primo premio) Zeebrugge, Belgium
Frankfurt Airport Office Complex (Primo premio) Frankfurt, Germany
Bibliotheque de France (menzione d'onore) Paris, France
ZKM (Primo premio) Karlsruhe, Germany
1991 Palm Bay Hotel Conference Center Agadir, Morocco 1992 Two Bibliotheques (Primo premio) Jussieu, France
1994 Cardiff Bay Opera House UK
Metro Dade Center for the Arts Miami, FL
1996 Luxor Theatre Rotterdam, Netherlands
1997 Extension of the Museum of Modern Art New York, NY 1998 IIT University Building (1rst Prize) Chicago
1999 Casa de Musica, Porto, Portugal